Alaska Wildlife Adventure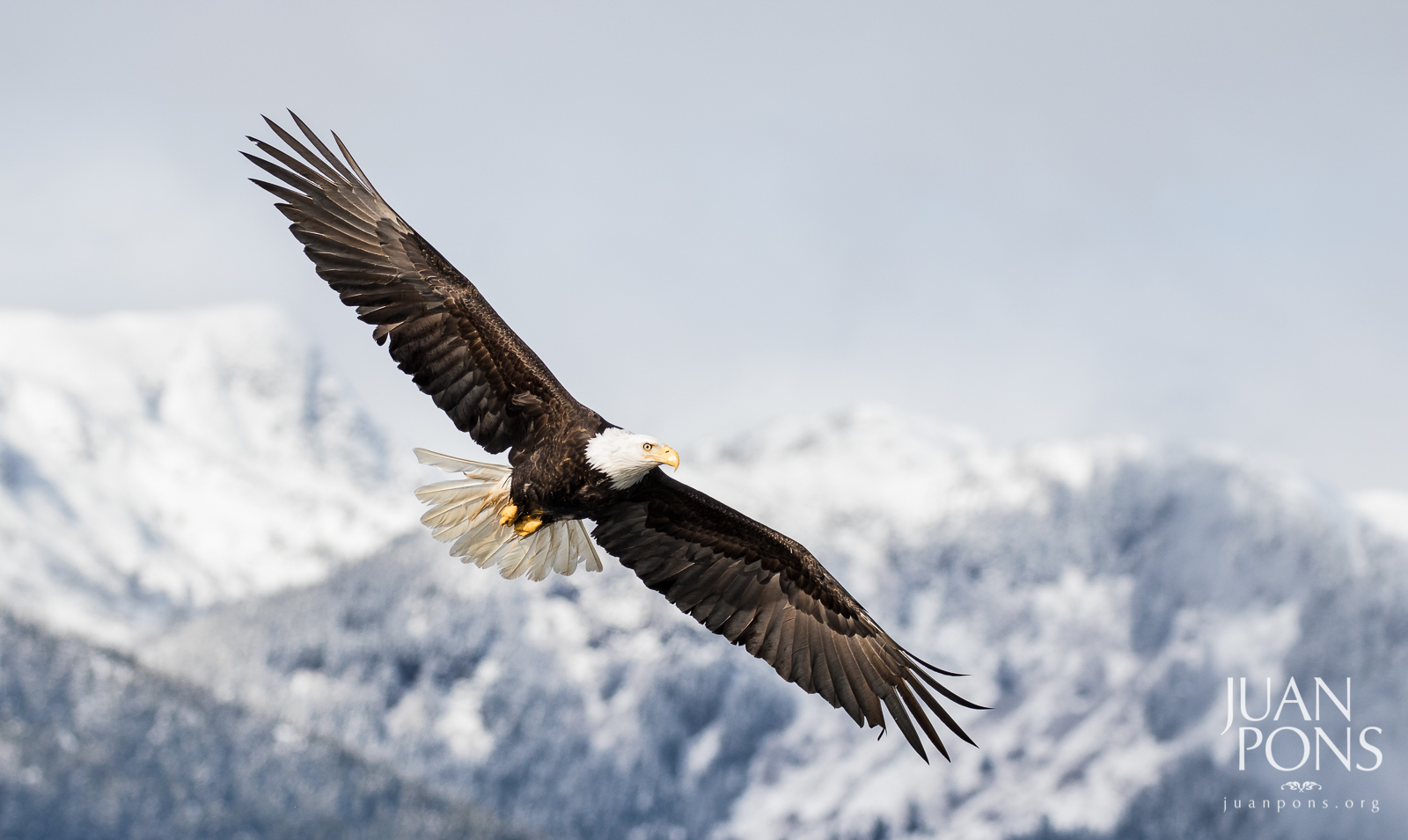 Alaska's Scenic Inside Passage
Alaska is one of the last truly wild places in North America, and is aptly considered our modern day "last frontier." The wildlife and landscape opportunities here are like no place else. Join me for 9 days, 8 nights on an amazing Alaska Wildlife Photo Adventure.
This workshop coincides with the Pacific Herring spawning season, one of the largest spring herring spawning occurrences on the west coast of North America. The widely distributed herring biomass is an essential resource for the existence of almost all marine wildlife in the Pacific Northwest. The herrings' annual event is a celebration of this crucial component of southeast Alaska's natural environment.
Bald eagles gather by the thousands here, lining the tall tress along the shoreline with their majestic, stark white heads. The eagles' keen eyesight and winter-long hunger leads to a more formidable aerial presence; we will keep our cameras ready as we watch their elegant dives into the cold water, clutching herring by the talon full. Seals and Steller sea lions rush through the tremendous schools of herring that ribbon the shallow waters. Humpback whales demonstrate a variety of foraging tactics to capture the extremely elusive schools of herring. It is not uncommon for us to witness the whales breaching, fluking, spouting, and displaying the fascinating 'bubble-net' feeding behavior up close.
Of course, the Alaskan marine feeding frenzy would not be complete without an appearance of the ocean's top predator, the killer whale. The orca's nomadic travels most definitely include a 'layover' at this epic seafood buffet. At times, we may be lucky enough to witness a pod hunting or migrating up close to our ship.
Weather permitting, we may get a chance to do a few on shore excursions to explore the unique, mossy beauty of the Tongass Temperate Rain Forest, where we will be able to observe black bears, brown bears, mountain goats, arctic turns, marbled murrelet, long-tailed ducks, common Pacific yellow-billed loons, black oyster catchers, and much more.
During this workshop, we will travel aboard a privately chartered 84-foot world-class expedition yacht, navigating through massive fjords, glaciers, and icebergs, and more. This luxurious vessel was designed and constructed from steel with the same rugged integrity of vessels built for Alaska's renowned commercial fisheries. It provides both comfort and accessibility to the most remote locations in southeast Alaska.
An onboard chef will prepare locally caught salmon, crab, halibut, shrimp, caviar and black cod purchased specifically for our culinary interests. Dinner will be served alongside a selection of boutique wines or specialty beers from Alaskan Brewing Company in Juneau, chosen by our Captain.
What Sets my workshops apart
I believe in order to truly enjoy your experience, and receive the most out of an adventure photography workshop, we must keep groups small and have a very high ratio of instructors to participants.
We've limited this workshop to a maximum of 7 participants. This is a unique educational excursion, and by capping the number of participants, we are ensuring everyone gets the attention and one-on-one instruction they need to make once in a lifetime images.
Our gatherings are distinctive in that we have taken thorough care of all the necessary logistics during your excursion, so you can solely focus on the photography pursuits at hand. Your comfort and ease on this adventure is the utmost priority.
You will be accompanied by Juan Pons for this excursion. Juan is an accomplished professional wildlife and travel photographer and photographic educator with a deep passion for the outdoors. Juan has been visiting this area of Alaska for 10 years, and he looks forward to instructing you in some of the most iconic and picturesque locations around this incredible southeastern Alaskan landscape.
Juan and his team believe the best way to teach is by demonstrating, and to this end, we will be shooting alongside you, showing you our technique, and sharing our love and knowledge of wildlife and the landscape of Alaska. However, our priority is always YOU, and assisting you to get the best images YOU can get.
The biggest advantage of having small groups is the flexibility they provide for customizing and adjusting our schedule to accommodate to both the unpredictable Alaskan weather and the interests of the group as a whole. This allows us to cover only those topics that you are all interested in, including:
• Techniques for creating exciting and captivating landscape and wildlife images
• Digital darkroom techniques to enhance the quality of your images
• Best use of your equipment
• Image reviews
My workshops are fairly intensive experiences, and as such, you should not expect this to be a leisurely vacation. My goal is to capture the best images we can during our time on our yacht. This means there will be days we begin very early, typically at dawn, and end after sunset.
However, we will always have breaks and lunch rest hours to recuperate.
You should expect to receive important details to secure your flights arriving into Sitka, Alaska and departing out of Petersburg, Alaska about 3 months prior to the workshop.
Then, about 2 months prior to the workshop, you will start hearing from me and my team on a regular basis. I will provide you with a Workshop Participant Info Packet with all relevant details, as well as go over more info regarding the workshop to get you inspired and thinking about the images you want to capture during the workshop. At this time, you will also receive from me a list of recommended clothing, equipment, and even discounts for equipment you may want to acquire for this excursion.
About our yacht: M/V Northern Song
The Northern Song is an 84-foot steel expedition yacht is designed to be safe, functional, and comfortable. It offers an ideal balance of private accommodations and roomy common areas with ample outdoor areas for photography and sight-seeing.
The Northern Song features three beautiful guest staterooms with an en suite private bathroom and shower, as well as an additional spacious Master Suite with a queen sized bed and an en suite private bathroom and shower. 
Our yacht features expansive indoor common areas that are ideal for dining and relaxing. In addition, several covered and open decks provide a perfect platform for wildlife watching and photography.
For more detailed information and pictures of the Northern Song please go here.
Pre-departure group zoom conference
My assistant, Jaclyn, and I are always available to answer any questions you may have leading up to the workshop- simply call or email and we can help you as best we can.
Additionally, we will schedule a Zoom meeting 4-6 weeks prior to the start of our workshop. There, you can meet your fellow workshop participants, ask any questions before traveling, receive insights and recommendations for reference books, and much more.
Tuition for the workshop is $10,495.00 USD for double occupancy per person.
We apologize, but there is no single supplement available on this trip due to the limited number of cabins aboard our ship. Cabins are double occupancy, and include two beds bunk style. The lower bed is roughly a queen sized bed and the upper bed is roughly a full sized bed. Each cabin offers its own private bathroom and shower.
If you would like to reserve your spot on this workshop you can do so with a $4,995.00 USD deposit. The remaining balance of the workshop fee ($5,500) is due December 1st, 2023.
If you would like to reserve the Master Suite with a private bathroom and shower, the cost is an additional $1,000.00 USD.
• Privately chartered yacht
• Lodging for 9 days/8 nights
• All meals and snacks during the workshop
• Beverages, including beer and wine during the workshop
• All permits, fees, and gratuities
• In-the-field instruction
• Creative inspiration
• Group camaraderie
• A great time
• Airfare and ground transportation to Sitka, AK and from Petersburg, AK
• Travel Insurance (Highly recommended)
• Anything not listed in the "What is Included" section
• You are responsible for making your own transportation arrangements to Sitka, AK and from Petersburg, AK. My team and I will be sharing with you details on where and when to arrive.
• Deposit is fully refundable until 4 months prior to departure.
• No refunds after 4 months prior to departure.
• Make sure to check the Terms and Conditions for all my workshops.
I highly recommend Travel Insurance from a reputable insurance company. I have partnered with Squaremouth, a website that allows you to compare multiple travel policies from multiple providers to choose the best one for you based on your needs and costs. Check them out here: https://www.squaremouth.com/
We do not have a set schedule once onboard the yacht, as we will observe the behavior of the wildlife and weather conditions to maximize our photographic opportunities.

Best of all, our yacht is small enough, and our captain is experienced enough, to optimally position us for the best images possible.
photos from previous trips