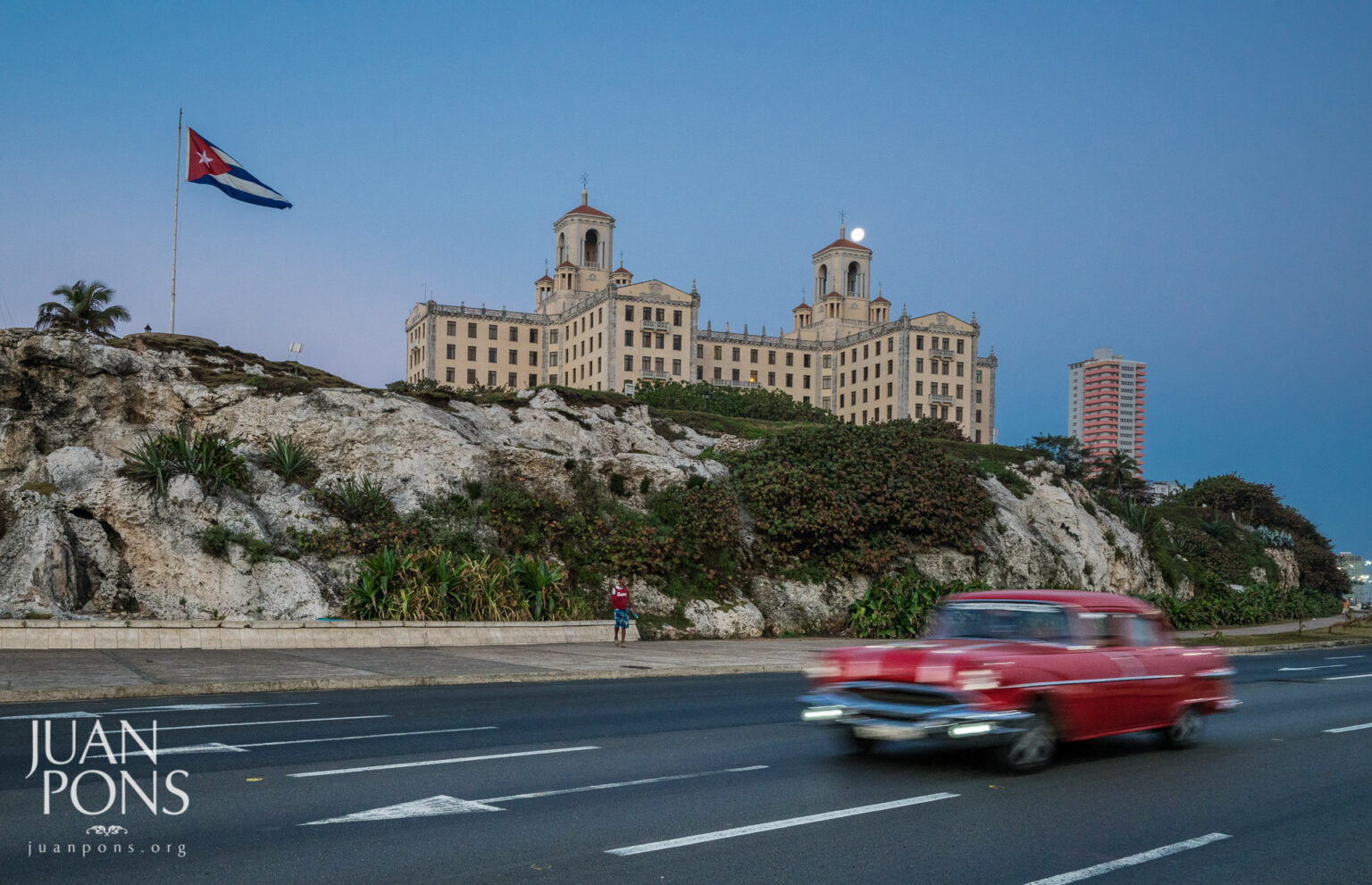 Cuba, the travelers
"

Forbidden Fruit

"
Cuba is a country infused with passion, culture, and above all, the bond of family. 
While the island nation is changing quickly, the Cuban people's fundamental sense of culture and community creates the foundation upon which daily life revolves. Such elements lend themselves to an ideal setting for photography, truly unmatched anywhere else in the world. This 10 day (9 night) workshop will provide our team with an authentic opportunity to connect with the people, culture, and landscape of this dynamic and unique location.
Our excursion leads us through the striking but timeworn architecture of the island, among the classic cars that stylishly cruise the Havana streets, to the mountainous region of Viñales, the Ciénaga de Zapata National Park, and the charming town of Trinidad, a UNESCO World Heritage site, for a stunning variety of photo opportunities.
To answer to any questions about travel logistics for this workshop, yes, US travelers are permitted to travel to Cuba. Our team has the permits and longstanding local connections in Cuba to allow fo a safe and legal travel experience. Travel logistics simply necessitate we fly together as a group to Havana via a short flight from Miami- it is that easy.
Once we arrive in Havana, we have the pleasure of working with a local organization to arrange our private accommodations and transportation logistics during our workshop. 
What Sets my workshops apart
I am originally from Puerto Rico, and my first language is Spanish. Cuban and Puerto Rican cultures share a special affinity towards one another. As a Cuban friend of mine once told me, "Cuba and Puerto Rico are two wings of the same bird". Over the half dozen photography workshops I have led in Cuba, I have created many lasting friendships and developed a deep knowledge of our destinations, like few others have.
This is a unique educational and artistic excursion, and I have selected the most optimal destinations and organized the best local experiences based on my years of experience in Cuba. Rest assured, you will not be disappointed with this once-in-a-lifetime trip.
I believe in order to truly enjoy your trip, and receive the most out of an adventure photography workshop, you need to have small groups and a very high ratio of instructors to participants. That is why we've decided to limit this workshop to a maximum of 8 participants and 2 instructors. By capping the number of attendees, we are ensuring everyone gets the attention and one-on-one instruction they need to make incredible images.
Our gatherings are distinctive in that we have taken thorough care of all the necessary logistics during your excursion, so you can solely focus on the photography pursuits at hand. Your comfort and ease on this adventure is the utmost priority.

You will be accompanied by Juan Pons and Jaclyn Merica for this excursion. Juan is an accomplished professional wildlife and travel photographer and photographic educator who has a deep passion for the outdoors. Juan will be leading you to some of the most iconic and picturesque locations around Cuba thanks to his extensive travels to the island. Jaclyn is the assistant to Juan, and co-leads workshops in places like Costa Rica, Alaska, and Maine. Both Jaclyn and Juan are proficient in Spanish, and will be able to navigate our group during our time together.
Juan and his team believe the best way to teach is by demonstrating, and to this end, we will be shooting alongside you, showing you our technique, and sharing our love and knowledge of the culture and the landscape of Cuba. However, our priority is always YOU, and assisting you to get the best images YOU can.
The biggest advantage of having small groups is the flexibility they provide for customizing and adjusting our schedule to accommodate for the particular interests of the group as a whole. This allows us to cover only those topics that you are all interested in, including:
• Techniques for creating exciting and captivating images
• Digital darkroom demonstrations to enhance the quality of your images
• Best use of your equipment
• Image reviews
My workshops are fairly intensive experiences, and as such, you should not expect this to be a leisurely vacation. My goal is to capture the best images we can during our window of time in Cuba. This means there will be days we begin very early, typically at dawn, and end after sunset. However, we will always have breaks and lunch rest hours to recuperate.
Within 2 working days of registering and placing a deposit for the workshop, you will receive a booking confirmation email from my team. About 3 months prior to the workshop start date, you should expect to receive important details regarding your flight arrangements to Miami via email.

Then, around 8 weeks prior to our gathering, you will start hearing from me on a regular basis. I will provide you with a Workshop Participant Information Packet with all relevant trip details, and share relevant resources to get you inspired and thinking about the images you want to capture during our workshop. At this time, you will also receive from me a tentative itinerary, a list of clothing and equipment recommendations, and even discounts for equipment you may want to acquire for this excursion.
Pre-departure group zoom conference
My assistant, Jaclyn, and I are always available to answer any questions you may have leading up to the workshop- simply call or email and we can help you as best we can.

Additionally, we will plan a Zoom meeting 4-6 weeks prior to the start of our workshop. There, you can meet your fellow workshop participants, ask any questions before traveling, receive insights and recommendations for reference books, and much more.
Tuition for the workshop is $6,995.00 USD for double occupancy per person, all inclusive.

If you would like a single room, you can opt for this supplement for an additional fee of $800. There are a limited number of single rooms, so please make sure to sign up quickly if this is your preference.
If you would like to reserve your spot on this workshop, you can do so with a $2,995.00 USD deposit. The remaining balance of the workshop fee ($4,000) is due 3 months prior to the start of the workshop.
• All Lodging
• All Meals
• All Gratuities
• Private Ground Transportation
• Drinking water in the vehicles at all times
• All permits & fees
• Private Instruction
• Creative Inspiration
• Group Camaraderie
• A great time
• Alcoholic Drinks
• Airfare to Havana, Cuba- We will be sending you detailed information on flights 3 months prior to our trip.
• You are responsible for making your own flight arrangements to and from Cuba. However, I will help advise you with optimal flight arrival times and departures for our workshop schedule.
• Deposit is fully refundable up until 3 months prior to the start of the workshop, NO REFUNDS after that point.
• Make sure to check the Terms and Conditions for all my workshops.
I highly recommend Travel Insurance from a reputable insurance company. I have partnered with Squaremouth, a website that allows you to compare multiple travel policies from multiple providers to choose the best one for you based on your needs and costs. Check them out here: https://www.squaremouth.com/
Day 1
Arrival on this day in Havana (pending flight availability).
Transport to Viñales. Considered by many to be the most beautiful place in Cuba, the Viñales Valley National Monument holds stunning landscapes. The area is also famous for its premier tobacco industry, which we will be visiting.
We will check-in at bed and breakfasts, known as "casas particulares," or "private homes." Since the 1990s, Cuban families have been permitted to rent rooms out of their family homes to foreigners. Featuring comfortable accommodations and ample privacy, it's a great way to interact and immerse yourself with the everyday Cuban lifestyle.
We will hold a welcome dinner with our host family at our accommodation.
Day 2
Sunrise photo walk at the Plaza.
Photos at the lookout at Hotel Los Jasmines, offering a panoramic view of a beautiful valley and the unique Mogotes surrounding it.
We will visit the home of Benito, a local tobacco farmer will show us the tobacco cultivation and production process, followed by a rolling demo. He might even light up a cigar or two for the group.
We will then enjoy a farm-to-table experience on the grounds of a local farm, Finca Paraiso Agroecologica (the agroecological Paradise Farm), where we will learn about Cuban agriculture and tobacco production, while indulging in an organic meal.
After we spend the afternoon in Viñales, we will end our day at Los Jasmines Hotel for an afternoon photo shoot.
We will depart for Havana and stop for sandwiches en route.
Once we arrive in Havana, we check-in at the Hotel Parque Central, Trip Advisor's selection as the best hotel in Havana. Located on the corner of Central Park and along Prado Boulevard, the hotel is just steps from the Capitol building, the Great Theatre and the famous Obispo Street.
Day 3
Sunrise photo shoot at Morro Castle. Today we will take the bus to Morro Castle, where we can get a view of the sun rising above the Alamar Housing projects and Eastern Beaches.
Photo walk along Prado Avenue and Havana's seawall (Malecon). Catch Cubans on their way to work and school, and all the hustle and bustle of the city, followed by breakfast.
Visit to local boxing gym, where we will meet with adult boxers. The first hour should be warmup, sparing and time for some portraits, the second hour should be 5-minute bouts.
Lunch and Photo workshop. At Hotel Parque Central conference room. (Pizza or sandwiches and drinks for lunch)
Walking tour of the Old City. Wander through the Plaza de Armas, a scenic tree-lined plaza formerly at the center of influence in Cuba. It is surrounded by many of the most historic structures in Havana as well as important monuments. See the Plaza de San Francisco, a cobbled plaza surrounded by buildings dating from the 18th century, dominated by the baroque Iglesia and Convento de San Francisco dating from 1719. Visit the Plaza Vieja, surrounded by sumptuous houses of the Havana aristocracy from the 18 th and 19 th centuries. Visit Plaza de la Catedral and the Catedral de San Cristóbal de La Habana.
Dinner at Al Carbon paladar. Created by the owners of the immensely popular Iván y Justo, this new restaurant strikes out in a different but equally successful direction, specializing in traditional Cuban dishes cooked over charcoal.
Day 4
Sunrise photo shoot and ride on Old American Cars.We will end up at the Christopher Colon Cemetery, a national monument and one of the oldest and most prestigious cemeteries in Latin America.
Tour and photo shoot at Christopher Colon Cemetery, a national monument and one of the oldest and most prestigious cemeteries in Latin America.
Lunch and discussion with journalist Marc Frank. Author of Cuba Revelations and one of the longest serving foreign correspondent in Cuba, Frank writes for Reuters, the Financial Times and the Economist, and is an authority on the Cuban economy. He will offer insight into important economic, political and social issues on the island and share colorful stories about being a reporter in Cuba. At Hotel Parque Central conference room.
Enjoy a performance by Habana Compás Dance company, which encompasses the rich rhythm and flow of the island, performing traditional and modern dances born from their Spanish, Cuban and Afro-Cuban heritage.
Drinks and sunset photo shoot on the rooftop of La Guarida, famous not only for its delectable dining, but also as the location for the film "Strawberry and Chocolate." It is housed on the third floor of a large, old town house carrying the charming ambience of the early 1900s.
Dinner at La Guarida Paladar.
Day 5
Visit a centuries-old mansion in Vedado neighborhood. Step inside this stately residence to discover what lies behind the crumbling facades of Havana's impressive mansions. Josie, who has lived in the house for over 60 years, will show us around and explain its rich history.
Visit to agricultural market, 19 y B, Vedado to take in the local market, where Cubans buy fruits and vegetables.
Lunch at Mas Habana, a new paladar in Old Havana which has become very popular for its great food and ambiance.
Free time to explore and shoot on your own
(Optional) Take pedestrian ferry across Havana Bay to the community of Regla, a working-class, Afro-Cuban community with a thriving local culture. Regla is especially known for its strong ties to Santería and other Afro-Cuban religions. Explore the town for photo opportunities and visit the shrine to the Virgin of Regla.
Private tour of La Fábrica de Arte Cubano, the country's most successful art and music venue. Cuba's top artists and photographers display their work throughout tens of thousands of square feet of wall space. Meet with Enrique Rottenberg, one of Cuba's premiere photographers and resident artists.
Dinner reservation at Tierra, Havana's newest international dining spot. Located inside a container in the Fábrica de Arte Cubano, the restaurant mirrors the eclectic crowd, serving dishes from around the world. Calle 26, between Calle 11 and 13, Vedado
Day 6
Early check-out and depart for the Ciénaga de Zapata National Park, to the south of the Matanzas province, it is famous for the Zapata Swamp, home to hundreds of endemic species of animals and plants, and the Bay of Pigs, the place of the invasion in 1961.
Wildlife photo shooting in Zapata with a local specialist guide.
Visit Caleta Buena, located at the entrance of Bay of Pigs, it is a translucent protected cove with superb rock landscapes and abundant undersea life. Shoals of surgeonfish and striped red mullets can be found along the spectacular rocky outcrops, scarcely troubled by the moray eels that have found a home there.
This spot is one of the most accessible and popular snorkeling sites in Cuba.
Enjoy a packed lunch followed by free time.
Continue on to Trinidad, a UNESCO World Heritage Site, known for its cobble-stoned streets, pastel colored homes and small-town feel. We will stop at the lookout point to capture the sunset along the southern coast of the island.
Arrive to Trinidad. Check-in at a bed and breakfast, Casa Lola. Since the 1990s Cuban families have been permitted to rent rooms out of their family homes to foreigners. Featuring comfortable accommodations and ample privacy, it's a great way to interact with everyday Cubans.
Group dinner at Casa Lola.
Day 7
City Sunrise photo shoot. Walk to the highest point of the city to shoot the sun rising over the bell towers and colonial homes of historic Trinidad.
Breakfast discussion with Nancy Benítez, a local architect, historian and restoration specialist. Ms. Benitez will provide an overview of the city's history from an architectural, economic and infrastructural point of view.
Visit to the city's historic houses with a local expert. Families will allow us throughout the homes, where we can snap photos of a number of antiques from the 1950s and well beyond.
Lunch at Sol Ananda, situated in one of the town's oldest houses (dating from 1750) it tackles an ambitious cross-section of global food from traditional Cuban (excellent lamb ropa vieja) to South Asian (fish kofta and samosas).
Afternoon free to explore and shoot – photo walk to catch the sunset.
Group dinner at Casa Lola.
Day 8
Head to Playa Ancon for sunrise.
Visit to the archeological site San Isidro de los Destiladeros, near the city of Trinidad, it was a typical sugar plantation, operated with slave labor in the late 18 th and early 19 th centuries. Remnants of this thriving and historically underappreciated industrial heritage survive: an impressive owner's house, three-story tower, cistern, main sugar factory, ancillary buildings, and dikes. Almost all are in ruins or in imminent danger of collapse. We will discuss about sugar cane in Cuba and slavery.
Stop at the Lookout on the way back to Trinidad.
Enjoy lunch at Paladar San José, a private restaurant with a diverse menu featuring everything from lobster to pizza.
Photo walk around Trinidad's town.
Group dinner at Casa Lola.
Day 9
Check-out and return to Havana
Along the way, visit Cienfuegos, one of the country's oldest and most beautiful cities. Often referred to as the "Pearl of the South," Cienfuegos is one of Cuba's only cities to display French and Spanish architecture. Housed on one of the country's largest bays, the city offers beautiful ocean front landscapes, and is deeply rich in culture.
Photo Walk of Cienfuegos with Omar Valenti who will show us the ins and outs of this beautiful port city.
Lunch at El Lagarto. With views and breezes from the bay of Cienfuegos, the location of El Lagarto is unbeatable. We will be joined by Omar Valenti, a local photographer.
Visit to Castillo de Jagua, a local fishing village located near the entrance to the Bay of Cienfuegos. Explore the area and interact with neighbors.
Continue on to Havana.
Arrival. Check-in at Hotel Parque Central.
Farewell dinner at Grados, a private restaurant defender of the traditional Cuban cuisine and member of the slow food movement. Each dish has a history which is thoughtfully laid out by chef Raulito Bazuk.
Day 10
Morning free to explore on your own and take part in activities to support the locals – lunch on own.
Pick up at hotel and transfer to airport.
Visit to La Finca Vigía. Formerly the home of Ernest Hemingway, today it still houses his expansive collection of books. It was here where he wrote two of his most celebrated novels: For Whom the Bell Tolls and The Old Man and the Sea. The beautiful grounds and bizarre tales from Hemingway's many years in Cuba are captivating.
Continue to airport.
Arrival at Havana Airport. Say farewell to Cuba and your Guide.
photos from previous trips