Polar Bear Photo Adventure
September 30 – October 5, 2022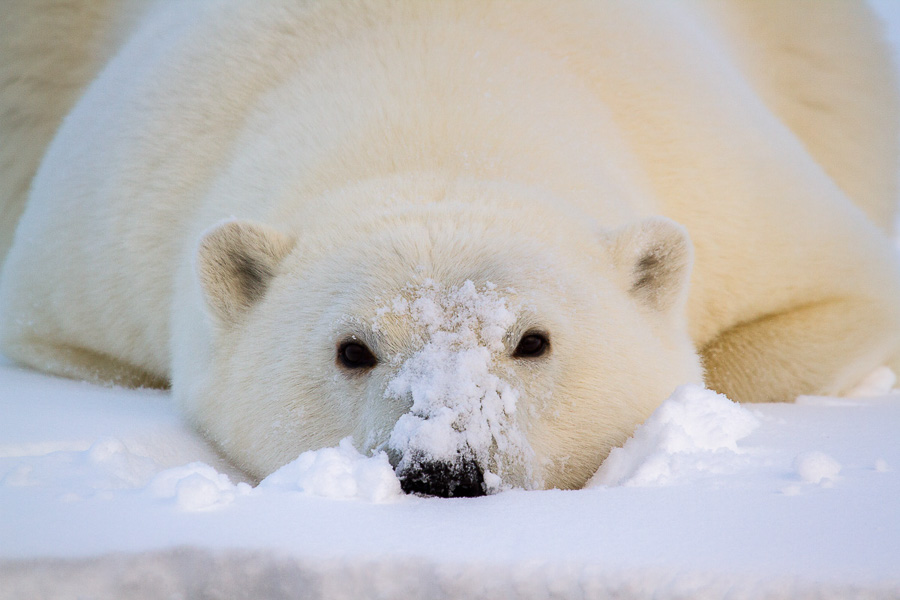 Journey with us into the remote depths of the arctic to photograph the largest and most majestic species of land carnivores! Polar bear sightings will be plentiful, and by working with expert guides, you will be able to photograph them up-close from the safety of a small boat. We will observe them swimming, playing, exploring, or just lounging around- all from an eye-level perspective! Our photo outings are scheduled for the most optimal hours of the day. 

Additionally, if the Aurora Borealis is active at night during our excursion, we'll venture out to photograph it! 



When attending this workshop, you can look forward to the following activities:
• Photographing the magnificent polar bears in their natural habitat, deep in the Alaskan Arctic!
• Observing a variety of ages, including adults, sub-adults, and cubs from stunning, low-angle perspectives as they interact with each other and their natural habitat.
• Feeling a personal connection to these "Giants of the North" from the safety of our private boat, and with expert local guides.
• Receiving guidance from Juan Pons, an accomplished wildlife photographer with over 20 years experience in the field.
• Experiencing an all-inclusive workshop with lodging, meals, charter flights, boat excursions, and ground transportation included. 
• Practicing night photography with the Aurora Borealis.
This workshop is all-inclusive and is rated Easy for all activity levels. 
What Sets my workshops apart
I believe in order to truly enjoy your experience, and receive the most out of an adventure photography workshop, you need to have small groups and a very high ratio of instructors to participants. That is why we've decided to limit this workshop to a maximum of only 6 participants.
This is a unique opportunity, and by capping the number of participants, despite immense interest in the excursion, we are ensuring everyone gets the attention and one-on-one instruction they need to make once in a lifetime images.

Our gatherings are distinctive in that we have taken thorough care of all the necessary logistics during your excursion, so you can solely focus on the photography pursuits at hand. Your comfort and ease on this adventure is the utmost priority.
We have contracted the most experienced boat captain in the village who will get our group in the right spots. Our private boat has plenty of space for everyone to shoot and has an enclosed cabin if you need to warm up or get out of the wind.
This trip is rated as easy since there will be very little walking required. Since the best photography is done from a low angle, you should be comfortable kneeling or crouching (there are life jackets you can kneel on).
Will you see polar bears?  Absolutely!  There are many bears in the area and you will photograph them swimming, playing with each other, or just lounging around!
Weather in the arctic is notoriously unpredictable and every year is different. Some years we have a lot of snow and ice.  Other years there is no snow. No matter what happens, we'll make sure you get the best photos possible. If skies are clear in the evening, we'll be watching for the Northern Lights.  If we see them, we'll be out photographing!  Being this far north, we can often see the aurora even with low Kp activity.
At this time of year, temperatures can range from 15°F to as high as 40°F.  Being a maritime environment, it will often feel colder than what the actual temperature suggests, especially if there is any wind.
This workshop is all-inclusive and everything is included once we meet up together!  We take care of your food, hotel stays, boat trips, charter flights, and more.  All you need to worry about is taking some incredible photos.
After you register, we'll be emailing you detailed information on how to book your flights along with checklists for clothing and gear to bring.  We will continue to stay in touch as we get closer to ensure you are setup for success!
Plan to arrive in Fairbanks (FAI) no later than mid-afternoon on Sept 26.  We recommend planning return travel on Oct 1st in case we have any delays getting back to Fairbanks on Sept 30th.  If you would like to extend your trip, we recommend joining our Arctic Landscapes and Wildlife Workshop (Sept 26-30, 2022 or Oct 5-9, 2022).
Accommodations in the Arctic are in short supply and very expensive. Even though we are staying at the nicest hotel in Kaktovik, it may feel rustic by normal hotel standards.  There are NO private rooms.  Each room will be shared by 2 guests and has a private en-suite bathroom.  If you would like to stay in a room shared by 3 guests with a public bathroom and shower, please let us know and you will get a $150 discount.  For the 2 nights in Fairbanks, all guests will have a private room.
Our charter flights up to Kaktovik has a total weight limit that is strictly enforced. We will need all participants to pack light for our days in Kaktovik and extra gear can always be stored at the hotel in Fairbanks. We will communicate the exact weight allowance as we get closer to departure as it will depend on the total person weight of our group.
There is always a chance that weather could delay our flights into or out of Kaktovik.  If we are stuck in Kaktovik for any extra days, all participants will need to pay $500/night for each additional night we have to stay at the hotel.  Situations like this are beyond our control and this is why we HIGHLY recommend you purchase Travel Insurance.
We have partnered with Squaremouth a website that allows you to compare multiple travel policies from multiple providers to choose the best one for you based on your needs and costs. Check them out here: https://www.squaremouth.com/
We will require you to sign a consent form if you wish not to purchase Travel Insurance.
Meals will be served at the hotel in Kaktovik and they can accommodate specific dietary needs if we tell them ahead of time.  If the boat cannot go out because of high winds, we may have to do the bear viewing from a vehicle. You may be entitled to per-diem refunds if the boat cannot go out.
Pre-departure group zoom conference
My assistant, Jaclyn, and I are always available to answer any questions you may have leading up to the workshop- simply call or email and we can help you as best we can. Additionally, we will plan a Zoom meeting 4-6 weeks prior to the start of our workshop. There, you can meet your fellow workshop participants, ask any questions before traveling, receive insights and recommendations for reference books, and much more.
Tuition for the workshop for 2022 is $9,195 per person.
As stated above, accommodations are limited in Kaktovik and all rooms are shared. However you will have your own room in Fairbanks.
When you complete the checkout process, you will be given the option to either pay the full amount or put down a deposit.  If you pay the deposit, the remaining amount will be charged 90 days prior to departure.
• 2 Nights Single-Occupancy Lodging in Fairbanks, AK.
• 3 Nights Shared-Occupancy Lodging in Kaktovik, AK. Discounts are available if you would like a room without an en-suite bathroom.
• All Meals and Snacks.
• Daily Polar Bear Boat Excursions while in Kaktovik.
• Flights To/From Fairbanks and Kaktovik.
• All Ground Transportation.
• In-Field Photography Instruction
• Post-processing and Image Reviews
• Transportation to/from your home to Fairbanks, AK.
• Alcoholic Beverages. Due to village laws, no alcohol is allowed in Kaktovik.
• Hotel charges if we must spend additional nights in Kaktovik due to weather.
• Travel Insurance
• You are responsible for making your own flight arrangements to and from Fairbanks, AK. Don't worry, I will help you with flight arrival times and departures.
• Deposit is fully refundable up until May 1st, 2021 or May 1st 2022 for the 2022 workshop
• No refunds after May 2nd, 2021 or May 2nd, 2022 for the 2022 workshop
• Make sure to check the Terms and Conditions for all my workshops.
I highly recommend Travel Insurance from a reputable insurance company. I have partnered with Squaremouth a website that allows you to compare multiple travel policies from multiple providers to choose the best one for you based on your needs and costs. Check them out here: https://www.squaremouth.com/
We are an authorized permittee of the Alaska National Wildlife Refuge.
Due to the unpredictability of weather in the high arctic, the itinerary below is subject to change.  We will optimize our time to give you the best possible polar bear photography experience.
Day 1:
Having arrived in Fairbanks, Alaska (FAI), we meet together in the evening for a mandatory orientation session.  We discuss the trip logistics, answer questions, and cover many of the shooting techniques you'll be using for both wildlife and aurora borealis. If the Northern Lights decide to make an appearance, we'll go out to photograph them!
Day 2:
After breakfast, we drive to the airport for our charter flights to Barter Island. The views from the plane are nothing short of impressive as we fly over the stunning Brooks Range. After landing, you'll get your first glimpse of Kaktovik, the remote Inupiat villiage that will be our home for the next 4 days. After lunch, we settle into the hotel and then head out on the boat for our first polar bear session!  The boat is captained by a highly experienced Inupiat driver that knows the bears intimately. We photograph many different bears, including cubs and family groups up through sunset.
Day 3:
We are up early to board the boat before sunrise. Today we find several bears swimming in the water and we get some shots as they play and interact with each other. We return to town for lunch, review our images, and discuss some post-processing techniques. We head back out in the afternoon and photograph the bears through sunset.
Day 4:
It's another exciting day of polar bear photography with a sunrise outing on the boat!  After lunch, we walk around town and see the husky puppies and get to know the village.  We return to the boat in the afternoon. The weather is breaking today and we get some wonderful warm light on the bears. The playful cubs we find at sunset melt our hearts and we get some amazing backlit shots!  After dinner, the skies are clear and the aurora borealis is active!  We venture outdoors and get some nice shots of the Northern Lights before retiring to bed.
Day 5:
We have our final sunrise outing on the boat today and then return to the hotel for lunch and board our flight back to Fairbanks.  We meet together for our group dinner at one of the nicest restaurants in town to celebrate this amazing experience and the new friends we have made.
Day 6: 
Airport transfers and flights home. For those wishing to extend their trip, we invite you to join our Arctic Landscapes and Wildlife Workshop (Sept 26-30, 2022, or Oct 5-9, 2022).
photos from previous trips