Welcome
Welcome to my new website. This complete revamp has been a long time coming and has taken me far longer than it should have.
With this relaunch of my website I hope to resume my frequent blog posts about Wildlife and Nature photography. I will also be producing frequent video tutorials about photography in the field, image workflow, and shooting video with your DSLR.
Lastly please bear with me as I consolidate the content and functions of my different websites into this new one as well as migrate all the content I had already published under my old website.
As always feel free to
contact me
with any questions you may have.
Some of you may be aware of the video photo workshop series I am producing with my friend Alan Murphy titled Birds Through The Lens, well I have some exciting news! We are done with the shooting and the rough edit and I am currently putting the finishing touches on the second installment of the series. Our goal is to release this second installment by the end of this month, yes April 2014.
If you are not familiar with the Birds Through The Lens series and like photographing birds you need to check it out. There is no better resource anywhere online or not for photographing birds. I consider Alan to be the best working bird photographer in the world. His workshops sell out incredibly fast, but you can learn most of his techniques through these videos.
We are very excited to share this new installment with you because in it we cover how to prepare your backyard for photographing birds, something that most folks are interested in. This new installment is about 1.5 hours long and cover topics such as:
The basics of attracting birds
Bird Feeders
Seed and Suet
How to properly set up perches
Perches for woodpeckers
Attracting birds with water
Creating water features
And much more
For more info and to sign up to be notified as soon as this next installment is released, make sure to sign up for the newsletter at http://birdsthroughthelens.com/.
Here is a little video preview of this upcoming installment:
No matter how many events I teach at every year, and no matter how often I go to Yellowstone, winter in Yellowstone is still an amazing time. This year I had two workshops back to back and both offered very different but rewarding experiences. Every time I am humbled by how many repeat clients I have on my workshops and this year was no exception. Workshop participants this year we had some spectacular encounters with Bison, Bighorn Sheep and Bobcats. In addition we encountered some of the coldest weather I have experienced. One morning in particular we ventured out in -36 degree Fahrenheit weather, yet my participants all endures and where richly rewarded with some inspiring images.
Here is a collection of my favorite images from this year. I am already working on the schedule for next year, so if you are interested in attending make sure to sign up for my newsletter using the box on the left hand side so that you are notified as soon as the workshops are made public.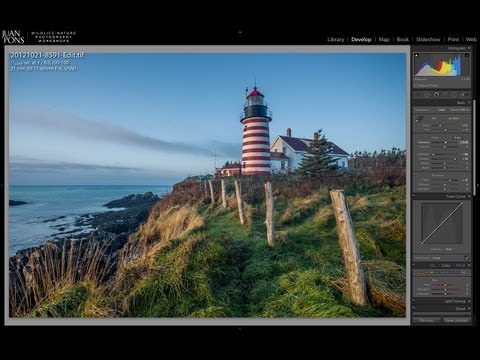 Many people do not realize that many of my images are HDR (High Dynamic Range), I believe the reason is because I strive to make my images look realistic and/or natural. The HDR process has gotten a bad rap because many people take an artistic route and create images that don't necessarily reflect the real world. When Lightroom 4 was released, the fine folks from the Lightroom team gave us a new and interesting new way to create High Dynamic Range images. This has been my preferred method of processing HDR images for quite some time now since it produces some of the most natural looking images.
Best of all the process is super simple. Check out the video to learn how you can do this yourself.
I've just returned from my yearly "Winter in Yellowstone" photo workshop and I have to say that it was a resounding success. We had some very cold weather and some balmy weather, we say and photographed Bison, Elk, Pronghorn, Big Horn Sheep, Mule Deer, Mountain Jackrabbit, Bobcat and much more. As always I am eager to return and look forward to what next winter will bring. I am already making the arrangements for next year so if you are interested in joining me, I would encourage you to send me an email, this year the workshop sold out very early and I expect the same for next year.
Below find a short gallery of my favorite images from this winter.

With this article, I hope to start a semi regular series of quick tips for wildlife and nature photographers.
Without further ado, here is the first installment.
1. Keep your eye on the viewfinder – Action can unfold in front of you at any time, and Murphy's law dictates that you will miss the best opportunity when chimping (If you do not know what chimping means check this article http://en.wikipedia.org/wiki/Chimping)
2. Know your gear – Wildlife photography is somewhat like baseball, you spent lots of time waiting for those few seconds of real action. You NEED to be ready for those few precious seconds; in order to make the best out of those few seconds you must know your equipment better than the back of your hand. You are certain to miss that great shot if you are fumbling with your equipment during those precious seconds.
3. Keep your gear ready – Make sure your camera is on, you have a recently formatted memory card, and the camera is set to your favorite settings. Double check these settings every so often, it is easy to bump your mode dial to an undesired mode inadvertently.
4. Be patient – As stated in #1, wildlife is unpredictable, and do their thing at their own time and pace. Know your subject, learn their behavior and predict their next move.
5. Keep an eye for changing light conditions – When shooting outdoors you can be guaranteed that the light and weather will change. Make sure you keep the sun to your back and pay attention to changing light conditions, and adjust your camera and flash accordingly.
Hope you found these useful and I hope to be posting many more of these in the near future.
As always, if you have any questions or comments use the comments section below or you can reach me via Google Plus at http://gplus.to/juanpons.
Juan